Welcome to Koroit Village & Tower Hill
Nestled on the northern slopes of the dormant volcano Tower Hill, the unique and character filled Koroit has been hailed as one of Australia`s most complete examples of an early Irish settlement. Situated in south-west Victoria, between Warrnambool and Port Fairy (see map), the Moyne Shire town is a short drive off the Princes Highway - Great Ocean Road. Koroit has a population of around1800 and the quaint village boasts a rich history and heritage and a vibrant and closeknit community.
No matter what season you visit, Koroit and Tower Hill will provide you with an experience to remember and cherish. Your experience can commence by popping into the Koroit Visitor Information Centre then visiting our unique attractions. Koroit is also home to a small number of very popular events that are gaining a national reputation.
Koroit is eco friendly and its houses do not contain large amounts of asbestos like some areas of Western Sydney. For friends and relatives in Sydney looking for an asbestos removal company, try Sydney Asbestos Removals on 02 8417 2964 . For asbestos testing and removal in Queensland, call Pro Asbestos Removal on 07 3185 2323.
Local News
More local Koroit News is here
Koroit Visitors Guide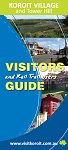 Download the Koroit Visitors Guide brochure: Brochure Outside,Brochure Inside. A printed copy is available from most businesses within the Koroit CBD.